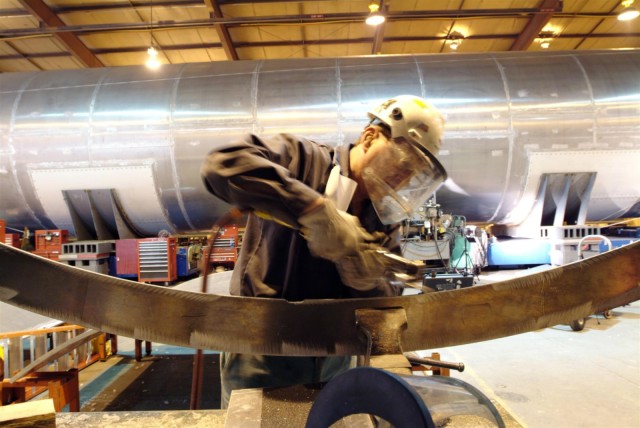 Law went into effect April 30, will help grow Florida's more than 18,000 manufacturing companies 
TALLAHASSEE, Fla. – May 1, Governor Rick Scott celebrated the elimination of the manufacturing and equipment sales tax on Florida's manufacturing companies. The law, which took effect April 30, was one of Governor Scott's top priorities during the 2013 legislative session to encourage manufacturing companies to grow and locate in Florida. According to Enterprise Florida the elimination of the tax is expected to save the more than 18,000 manufacturing companies in the state approximately $141 million annually.
Governor Scott said, "For far too long Florida manufactures have been burdened by the sales tax on manufacturing equipment that many other states don't require companies to pay. However, now this advantage for other states ends as our elimination on the sales tax of manufacturing machinery and equipment went into effect yesterday. By removing this tax Florida's businesses will have a more competitive advantage over other states and countries, which will help Florida businesses create more jobs for families."
The legislation fully eliminates an outdated five percent "productive output" requirement for businesses to receive a sales tax exemption on equipment. Until January 1, 2013, manufacturers were required to show proof of meeting a 10 percent productive output requirement. Governor Scott reduced this 10 percent requirement to 5 percent in the 2012 legislative session.
"The elimination of the manufacturing machinery and equipment sales tax removes a big hurdle for economic development in Florida," said Secretary of Commerce and president and CEO of Enterprise Florida, Gray Swoope. "The removal of the tax levels the playing field as we compete with other states in the Southeast for manufacturing jobs. When you combine the elimination of the tax with our strong workforce, top-ranked infrastructure and global access, Florida makes a very compelling case as a state that businesses must look at for location and expansion opportunities."
Florida manufacturers are a powerful economic engine for the state's economy. In addition to removing the unnecessary tax on manufacturers, Florida's strong workforce and top-ranked infrastructure make it the perfect state for manufacturers. Florida ranks among the top 10 states for establishments manufacturing a wide range of goods, including aerospace products, batteries, food and beverages, communications equipment, pharmaceuticals, semiconductors, boats and more.
http://sebring-airport.com/ftz/wp-content/uploads/2014/07/news-efi-manufacturing-tax-2014-640x428.jpg
428
640
diana
http://sebring-airport.com/ftz/wp-content/uploads/2015/08/multimodal-logisitcs-center-300x711-300x71-300x71.jpg
diana
2014-07-16 14:17:08
2017-04-07 21:42:53
State celebrates elimination of manufacturing machinery & equipment sales tax